Imagineering in Metals and Ceramics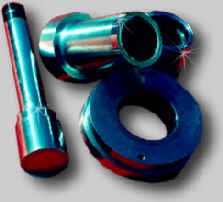 Philadelphia Carbide Company has been manufacturing precision machine parts, wear parts, dies, punches and related metal components since 1957. During that time, some of the most prestigious businesses from around the globe have turned to us in their times of need- names like DuPont, IBM, General Motors, 3M, Proctor & Gamble, Ford (UK), Storage Technology and Modine Mfg. (Brazil) They know that our skills go far beyond the precision finishing of metal parts. They know that, when it comes to machine parts, few job shops understand your business needs better than Philadelphia Carbide and few job shops are better able to creatively meet those needs than Philadelphia Carbide.

We call it "imagineering."
You have a problem. We imagine a solution. Our management and production personnel average over 20 years of hands-on experience; they know metals, they know ceramics, and they know their properties, possibilities and limitations.
We invite you to tour our site. Consider what we manufacture, our exceptional capabilities and what we've done for others. If you like what you see, give us a challenge! Send us a drawing or a description of your need...and let us put our imagineering team to work for you..
Follow us on Facebook, Twitter,
YouTube, LinkedIn,
Google+ and
Pinterest
PHILADELPHIA CARBIDE COMPANY



1451 Anderson Ave. • Oreland, PA 19075
PH: (215) 885-0770
E-MAIL: orders@phillycarbide.com